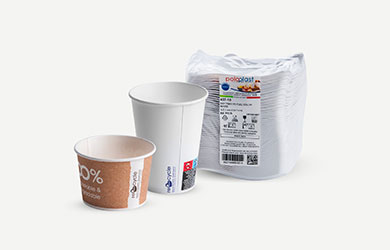 Environmental labelling of packaging
The guide to proper disposal of our products
From 1 January 2023, Legislative Decree 116/20 on environmental labelling came into force.
All packaging must be appropriately labelled in accordance with the applicable UNI technical standards.
Environmental labelling provides indications of the correct disposal method for all packaging placed on the market, to facilitate its collection, recovery and recycling.
As well as correct disposal, labelling provides information on the composition of the packaging itself.
Although it is only compulsory in Italy we believe it is a fundamental step for the sustainable and responsible use of packaging in any country.
The diagram below will help you understand the environmental labelling on our products.
How to dispose of products correctly?
The labelling is generally found on the product's packaging label. The regulation does not stipulate any layout requirement. It consists of mandatory and recommended elements.
The 3 key elements of environmental labelling

For example:
bottle, tub, flacon, label, wrapper, etc.
Alphanumeric code from Decision 97/129/EC that can be supplemented with UNI EN ISO 1043-1:2002 or CEN/CR 14311:2002 standards

INDICATION OF THE
TYPE OF COLLECTION
Whether differentiated or undifferentiated and, in the case of separate collection, indication of the reference material
If there is no label on the packaging?
In case the packaging does not bear the label, then the information on the disposal of the product is on the product itself.
In this case, the labelling is already printed on the product.
Below we can see two examples of environmental labelling printed directly on PoloPaper products.
The environmental labelling changes depending on whether the paper is recyclable or compostable.