Tested up to 125 washes**
Thanks to its highly resistant material, this new product line is certified to be washed up to 125** times in the dishwasher at a maximum temperature of 65°C. It identifies it to all intents and purposes as the alternative to single-use.
**Test carried out according to UNI EN12875-1: 2005 and UNI EN 12785-2:2002
Continuous savings
Due to their properties, Reusable products reduce costs in the long term and reduce the emission of single-use plastic into the environment. This translates into greater savings and protection of our planet!
Designed to be reused
Use and collect Reusable products in the appropriate containers. This new range of items will then be washed, sanitised and put back into use to give them a new lease of life!*
* The products comply with EU Regulation 10/2011 and subsequent updates including 1245/2020
Recognisable by marking
This product line leaves no room for imitation! Spoons, glasses, plates and cutlery made of a durable material and branded REUSABLE. Our designers have developed an ad-hoc colour palette reminiscent of the tones of nature.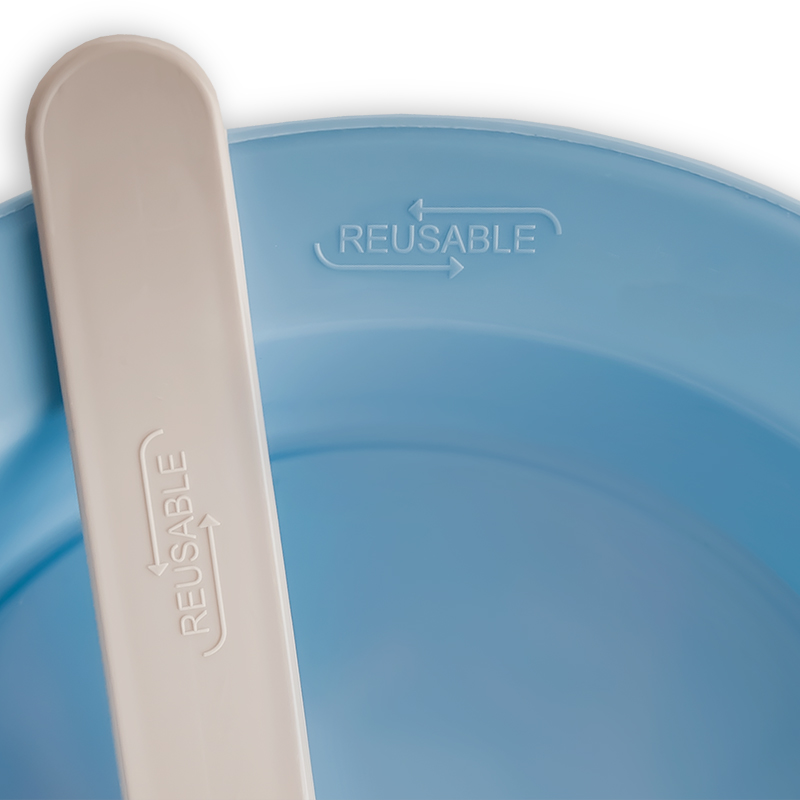 Polo Plast products distinguished by the iconic marking
A complete set of items all branded the REUSABLE mark entirely designed and manufactured in our factory in San Stino di Livenza (VE).
COMMUNICATE YOUR CHOICE EFFECTIVELY
MAKE YOUR CUSTOMERS AWARE OF YOUR CONCERN FOR THE ENVIRONMENT
WANT TO KNOW MORE? GET IN TOUCH WITH US!